Images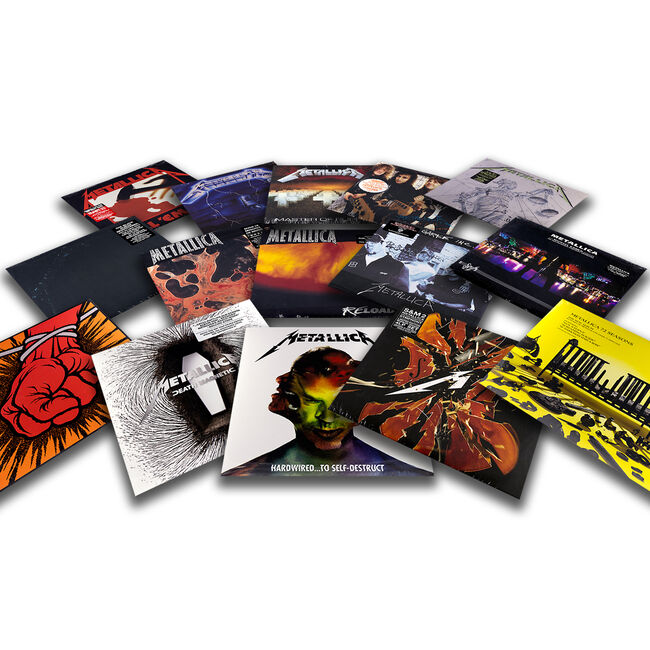 BUNDLE AND SAVE!
Metallica Vinyl Catalog Bundle
Shop/Media
Details
https://www.metallica.com/store/metallica-vinyl-catalog-bundle/VNYBUNDLE.html
Been eyeing those vinyl? Now's the time to get them all at a discounted price! We raaaaarely discount vinyl so take advantage while you can.
FREE SLIPMAT INCLUDED! *While supplies last
** PLEASE NOTE:
You will only be able to check out with this item in your cart. If you have another item in your cart at checkout, you will not be able to proceed.
You can only order 1 of the bundles at a time. If you experience issues placing a second separate order, please submit a customer service ticket here.

Description
Bundle includes 15 albums:
Kill 'Em All - Remastered Vinyl
Ride the Lightning - Remastered Vinyl
Master of Puppets (Remastered) - Vinyl
The $5.98 EP - Garage Days Re-Revisited (Remastered) Vinyl
...And Justice For All (Remastered) - Vinyl (2LP)
Metallica (The Black Album) Remastered - Vinyl (2LP)
Load - Vinyl (2LP)
Reload - Vinyl (2LP)
Garage Inc. - Vinyl (3LP)
S&M - Vinyl (3LP)
St. Anger - Vinyl (2LP)
Death Magnetic - Vinyl (2LP)
Hardwired...To Self-Destruct - Vinyl (2LP)
S&M2 Vinyl (4LP)
72 Seasons Vinyl (2LP)