Metallica: The Black Album in Black & White Book by Ross Halfin
Met Store
Details
https://www.metallica.com/store/metallica-the-black-album-in-black-white-book-by-ross-halfin/RHBABWBOOK.html
Metallica, the self-titled fifth studio album released in 1991 quickly became known as the Black Album. The landmark record turned Metallica into global megastars and is one of the best-selling albums of all time. To date it has sold in excess of 35 million copies worldwide. Photographer Ross Halfin was with the band during the album sessions at One on One Studios in North Hollywood and documented the 300 date tour that followed between 1991 and 1993. The hectic performing schedule is mixed in with many unique portrait sessions and candid, backstage documentary style photography, rehearsals, interviews, band meetings and travel.

This official Metallica book features many classic and previously unpublished images with introductions by Ross Halfin, James Hetfield, Lars Ulrich, Kirk Hammett, Jason Newsted and Robert Trujillo who performed on part of the tour with his band Suicidal Tendencies. Printed with a metallic silver jacket with block-foil lettering, this volume is an epic celebration of one of rock's most legendary albums.
"By the time the songs and the recording were coming together, the confidence level was at an all-time high and we felt better than ever about who we were and how we viewed ourselves with regards to being photographed." – Lars
Exclusively in the Metallica Store and Probity Merch UK Metallica Shop: Special edition 6" x 9" print of the cover image on Zen 220gsm paper. While supplies lasts!
Also available through Probity Merch UK Metallica Shop.
We will also have a DELUXE LIMITED, SIGNED EDITION of the book available at a later date. More details to come shortly!
** Please note: You will only be able to check out with this item in your cart. If you have another item in your cart at checkout, you will not be able to proceed. You will be charged at the time of checkout for any pre-order items.
Ross Halfin has been working with Metallica since 1984 and has travelled with the band to every continent and almost every country in the world, covering every aspect of the band's career: in the studio, backstage, on the road and at home. He has photographed almost every major artist and continues to work and travel as first choice photographer for the biggest bands in the world.
Website: www.rosshalfin.com
Facebook: @RossHalfinOfficial
Instagram: @RossHalfinPhotography
Published by R|A|P
Website: reelartpress.com
Facebook: @ReelArtPress
Instagram: @ReelArtPress
Twitter: @ReelArtPress
BATSWLST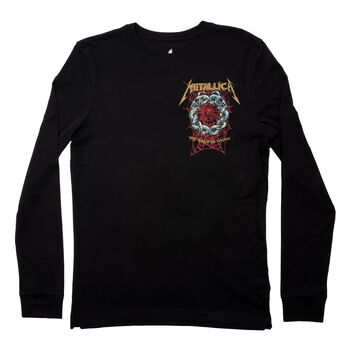 The Struggle Within Long-Sleeve T-Shirt
Description
The Black Album's The Struggle Within artwork by Pushead on a long-sleeve shirt.
100% Organic cotton
145gsm
Anthem AM011
Also available through Probity Merch UK Metallica Shop.
BABDCAT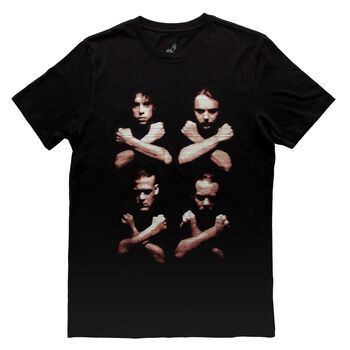 Birth Death Crossed Arms T-Shirt
Description
Straight out of the 90's! Bringing back the popular Birth School shirt design in time to celebrate the 30th anniversary of Metallica (The Black Album).
100% Organic cotton
145gsm
Anthem AM010
Also available through Probity Merch UK Metallica Shop.
REBADLXBS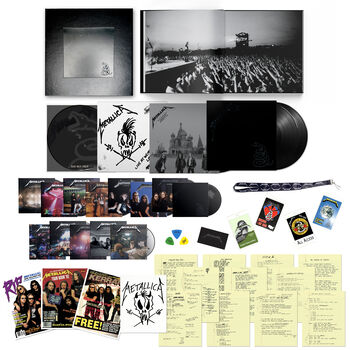 Metallica (The Black Album) Remastered - Deluxe Box Set
Description
It's finally here! Metallica's eponymous album, better known as The Black Album, is remastered and will be available everywhere on September 10th. The Black Album is one of the most commercially successful and critically acclaimed records of all time, with global sales of over 35 million, and contains a series of unrelenting singles, "Enter Sandman," "The Unforgiven," "Nothing Else Matters," "Wherever I May Roam," and "Sad But True." The standard album is remastered by Bob Ludwig at Gateway Mastering and all other content is remastered by Reuben Cohen at Lurssen Mastering. All content was overseen by executive producer Greg Fidelman.
Limited edition deluxe numbered box set (with magnetic flap) of Metallica (Remastered) includes the album remastered on 180-gram double LP and CD, "Sad But True" picture disc, three live LPs, 14 CDs and six DVDs featuring unreleased content (live shows, rough mixes, demos, etc), MP3 download card of all audio, four tour laminates, lanyard, three lithos, three guitar picks, lyric folder and sheets, and a 120-page hardcover book with never-before-seen photos + stories from those who were there.
All DVDs are region-free.
Also available through Probity Merch UK Metallica Shop.
*You will be charged at the time of checkout for any pre-order items.
TMBLVINYL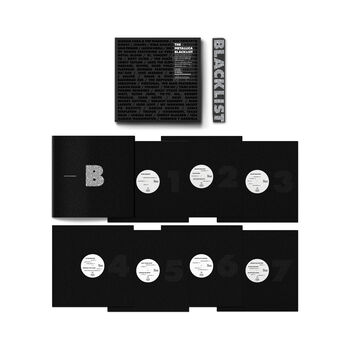 The Metallica Blacklist Album - Vinyl
Description
It's no secret that Metallica's self-titled fifth album — a/k/a The Black Album — is one of the most commercially successful records of all time. Its 1991 release propelled Metallica to bona fide household name superstardom, and its impact and relevance have only grown with the years: The Black Album remains the best-selling album of the past three decades, and one of only two albums that have spent 550+ weeks on the Billboard 200.

The Metallica Blacklist celebrates the 30th anniversary and enduring influence of this musical milestone with one of the most ambitious projects ever conceived by the Metallica team: An unprecedented 50+ artists spanning an unbelievably vast range of genres, generations, cultures, continents and more, each contributing a unique interpretation of their favorite Black Album cut.

Much more than a mere tribute, The Metallica Blacklist offers up new dimensions of the record whose gravitational pull first drew the mainstream to Metallica in 1991—and provides new insights into the universal and timeless appeal that kept it there: the boundary-smashing influence these 12 songs have had on fans and musicians of all stripes. Blacklist's 53 tracks find singer songwriters, country artists, electronic and hip hop artists sharing their love of these songs alongside punk rockers, indie darlings, icons of rock, metal, world music and many, many more…

The Metallica Blacklist is a fitting and limitless homage, one that features bands who've shared stages with Metallica alongside artists who are younger than the original album. It's a truly staggering, at times mystifying assemblage of musicians, dozens of whom have little to nothing in common other than the shared passion for the music that's united them for this album. And really… nothing else matters.
The seven LPs will be housed in die-cut jackets with a booklet in a library-style slipcase. Comes with an MP3 download card.
Also available through Probity Merch UK Metallica Shop.
*You will be charged at the time of checkout for any pre-order items.
This product is on pre-order