Images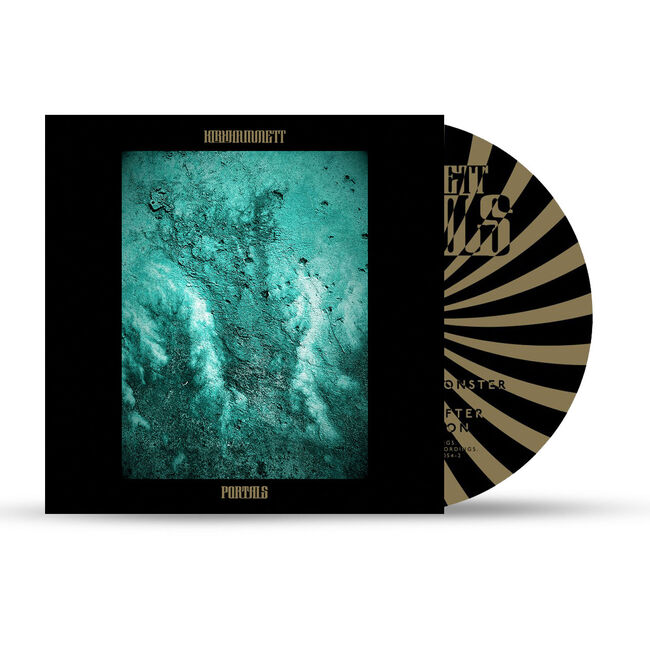 Kirk Hammett Portals EP - CD
Shop/Media
Details
https://www.metallica.com/store/kirk-hammett-portals-ep-cd/KHPORTALSCD.html
Did somebody say solo project? You read right! Our very own Kirk Hammett has recorded Portals, a four-song instrumental EP, and is celebrating Record Store Day with its worldwide release exclusively at your favorite local independent retailer and in the Met Store.
Description
"This music was created with what I describe as an Audio-Cinematic approach. They're soundtracks to the movies in your mind," says Hammett.
The four-track instrumental EP was produced by Hammett and mixed by Hammett and Bob Rock.
Liner Notes
Inspirations, Influences, and a track-by track explanation by Kirk Hammett:
Initially, before I even had the idea for a solo EP, I was inspired by the need to create some sort of soundtrack music to accompany The Kirk Hammett Collection for the first "It's Alive" exhibition at the Peabody Essex Museum in Salem, Massachusetts, 2017. I wanted to conceive music to play on a loop in the background as people walked through the exhibit. I sat down one night with a progression and before I knew it, all the parts were there for "Maiden and the Monster".
When that was done, it sounded so much better than I thought it would. It was way more than a background track and more complex than a moody music piece. It had evolved more into a musical statement, and I knew it had to move beyond the museum. Upon realizing this, the concept of doing a small solo release started to take root and grow.
The initial concept for Portals started with that one song. Following that, I realized I could create different soundtrack moments. These songs are what I call Audio Cinematic; I'm creating sounds and pieces of music for the movies playing in my head. Hopefully they'll create movies in other people's heads in a similar fashion.
This EP is heavily influenced by Classical music, Soundtracks, Horror Movies, perhaps some Ennio Morricone. I wanted it to span the decades and touch upon all the horror I love. The idea behind the EP was to have all the songs flow into each other, and to do this, I basically relied on a whole cast of friends to get this thing done. I had a very clear vision of what everything should sound like. I knew what I wanted in my head – I just had to find the right people to execute it. That's why I worked with the people I worked with. I essentially called in a bunch of musical favors.
On that note, I always had a strong idea to have classical instruments involved in these sounds because of the soundtrack and classical influences. As fate would have it, when I met Edwin Outwater while working on S&M II, we hit it off right away. He was way into horror movies, and not just in a casual way. He knew his horror movies, and it was obvious to both of us that we should work together.

MAIDEN AND THE MONSTER:
"Maiden and the Monster" was inspired by one progression that just came to me. I sat down in front of some old movie posters with a guitar and this progression and started thinking of the old classic horror films; Phantom of the Opera, Nosferatu, Cabinet of Dr. Caligari, up to Dracula, Frankenstein, the Mummy, while concentrating on the mood of those films. I filtered that through my own musical psyche, and this song is the result of that.
If I was to write a soundtrack for these movies, in that era collectively, that is what "Maiden and the Monster" represents. I'm seeking to create a silent black and white horror movie made from music. The song plays out in scenes rather than a traditional musical arrangement, like the way those classic films did.
A lot of those early 30's horror films used classical pieces to accentuate the film. Like Tchaikovsky's "Swan Lake" in Dracula and The Mummy. The Black Cat and Dr. Jekyll and Mr. Hyde used the "Fugue in D Minor" by Bach, so "Maiden and the Monster" harkens back to those films, those baroque moods, but with a modern take because I wanted to bring in the musical sensibilities of today. I also wanted to bring in a flow with the songs; not just in sound, but in time and mood as well. "Maiden and the Monster", inspired by the horror films of the 20's and 30's, ends on an upbeat, and doesn't resolve. A sonic cliffhanger. This flows into "The Jinn", which sets up the vibe for the 50's movie era.

THE JINN:
"The Jinn" appeared in much the same way as "Maiden and the Monster". I was messing around with a bunch of different effects and ended up with this strange creation. Every time I hit one chord; all sorts of different octaves, sounds, and delays would flow out of it. It wasn't ready to be a song, but I took note of it. Maybe six months later I came back to it, and it sounded great. I realized with some work, it could become a companion piece to "Maiden and the Monster". A continuation in time as well as sound.
I see "The Jinn" representing another point in horror cinema. This time it's more about the 50's and how horror took a certain turn, getting more progressive and more Sci-Fi. It represents all those wacky high concept low budget films - crazy invasions, giant insects, horrors from space, horrors from the ocean. Visually, they were amazing, and they were great atmospherically too. Some of my favorites are "The Black Sleep", "It Conquered the World", and "Plan 9 From Outer Space". A lot of those movies had those fairy-tale endings as well. The good guys win, justice is served, the hero escapes ... I tried to capture the spirit of that in "The Jinn".

The last part of the Jinn is like a transition from the 50's into the 60's, and how things became more realistic in the Horror genre. More gritty, more violent, more blood on the screen. Then, simultaneously, there's all these great Western films coming out with Clint Eastwood and Lee Van Cleef, also those spaghetti westerns from Europe. And then the weird hybrids, like Jesse James meets Frankenstein's Daughter or Billy the Kid Versus Dracula.

HIGH PLAINS DRIFTER:
One of my favorite films of that period, moving from the 60's into the 70's, was High Plains Drifter. If you're not familiar with the film, there's a paranormal element to it. The music for the song, the third track on the EP, was not meant to be specifically music for that film, but it was once it was written, I immediately thought it conveyed the same sentiment as the film, so the piece was christened accordingly. The music for "High Plains Drifter" initially came from a Flamenco piece I had written. It was a two-and-a-half-minute piece, and I really liked it, but it was one of those riffs that would be hard to integrate into Metallica. I knew I wanted to do something with it, even though it came out spontaneously. I had been sitting outside messing around with a Flamenco acoustic guitar I'd just bought, and it flowed out in the moment. I was determined it would have a life. It would have its moment.
That's the first piece I played for Edwin, and he said, "We have to do something with this!" I agreed, and the result of that collaboration is "High Plains Drifter". I think it came out great, and one of the things I I love about this song is that I got to cycle through a whole bunch of different guitar techniques that I'm not particularly known for.
I also like that while I still consider it an instrumental, it has the only vocals on the EP. That was Edwin's idea. We got the vocalist, Eliza Bagg, to come into the studio, and she just did a fantastic job. She nailed it.

THE INCANTATION:
"The Incantation" brings us into more modern times. There was an upward shifting quality in horror movies in both scripts and storylines. Here I'm thinking more around when the first Hellraiser movie came out, so mid to late 80's. I think that started the modern-day golden age of horror, and I think that's still going on right now. "The Incantation" isn't about a specific film, but more my take on the last twenty years or so of all the great things the Horror genre has experienced. The title itself is influenced by the current wave of Folk-Horror, which I'm a big sucker for.
When I listen to "The Incantation" I feel the track invokes a certain spirit immediately. An attitude that builds and builds up to the final parts. It's dramatic, going full on Gregorian at the end with some of the progressions, and it works out fantastically. I couldn't be happier with the results.
This is another song that wouldn't have happened without Edwin's input. Initially I had a piece I had written and re-written seven times. I was going out of my mind with it, but I didn't get rid of any of the re-writes. Instead, I named them all; "Insanity One", "Insanity Two", all the way up to "Insanity Seven". At that point, it was really driving me crazy, so I stopped. Months later I came back to it and realized it would be perfect for Edwin. I found that each re-write wasn't that bad, but they were all kind of different. All these different feels, different versions of the riff, different possibilities of one musical idea. I thought if we trimmed the fat off all of them and put them together, it would be an amazing instrumental. And that's basically what we did, with Edwin writing the insanely cool melody in the middle.
Tracklist
Maiden and the Monster
The Jinn
High Plains Drifter
The Incantation