Images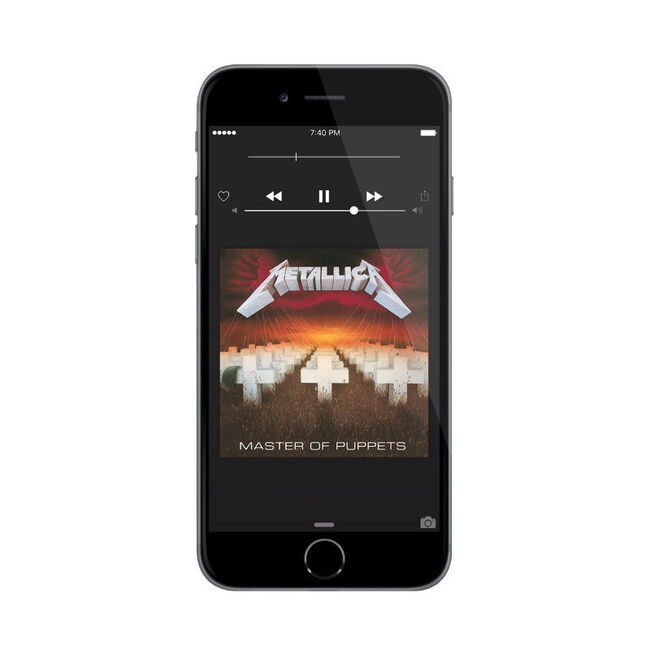 Master of Puppets (Remastered Expanded Edition) (Digital Download)
Shop/Media
Details
https://www.metallica.com/store/music/master-of-puppets-remastered-expanded-edition-digital-download/14363.html
Remastered Expanded Edition of Master of Puppets includes the newly remastered album + previously unreleased demos, rough mixes & live tracks.
Variations
Select a format to learn more about the sound quality.
To download, you must be on a desktop computer or laptop. Downloads will not work on mobile devices like an iPhone or iPad.
Liner Notes
Remastered by Howie Weinberg at Howie Weinberg Mastering, Los Angeles, CA. All bonus material mastered by Reuben Cohen at Lurssen Mastering, Los Angeles, CA.
Tracklist
Battery (Remastered) (5:12)
Master of Puppets (Remastered) (8:35)
The Thing That Should Not Be (Remastered) (6:36)
Welcome Home (Sanitarium) (Remastered) (6:27)
Disposable Heroes (Remastered) (8:16)
Leper Messiah (Remastered) (5:40)
Orion (Remastered) (8:27)
Damage, Inc. (Remastered) (5:32)
Part 1
Master of Puppets (Remastered)
Battery (5:12)
Master of Puppets (8:35)
The Thing That Should Not Be (6:36)
Welcome Home (Sanitarium) (6:27)
Disposable Heroes (8:16)
Leper Messiah (5:40)
Orion (8:27)
Damage, Inc. (5:32)
Part 2
Riffs, Demos & Rough Mixes - Previously Unreleased
Battery (Early June 1985 Demo) (4:42)
Master of Puppets (Late June 1985 Demo) (8:21)
The Thing That Should Not Be (September 1985 Drum Room Demo) (6:22)
Welcome Home (Sanitarium) (Late June 1985 Demo) (9:02)
Disposable Heroes (May 1985, Writing in Progress II) (5:42)
Leper Messiah (1985, from James' Riff Tapes II) (0:56)
Orion (November 1985, Work in Progress Rough Mix) (8:23)
Damage, Inc. (1985, from James' Riff Tapes) (1:55)
The Money Will Roll Right In (Work in Progress Rough Mix) (2:58)
The Prince (Work in Progress Rough Mix) (4:50)
Part 3
Live from the Damage Inc. Tour - Previously Unreleased
Battery (Live at The Meadowlands, East Rutherford, NJ - April 21st, 1986) (4:40)
Master of Puppets (Live at The Meadowlands, East Rutherford, NJ - April 21st, 1986) (8:25)
For Whom The Bell Tolls (Live at Hampton Coliseum, Hampton, VA - August 3rd, 1986) (5:15)
Ride The Lightning (Live at Grugahalle, Essen, West Germany - January 25th, 1987) (6:16)
Welcome Home (Sanitarium) (Live at The Country Club, Reseda, CA - November 8th, 1986) (6:00)
The Thing That Should Not Be (Live at the Aragon Ballroom, Chicago, IL - May 25th, 1986) (6:16)
(Anesthesia) - Pulling Teeth (Live at the Aragon Ballroom, Chicago, IL - May 25th, 1986) (2:58)
Damage, Inc. (Live at the Aragon Ballroom, Chicago, IL - May 25th, 1986) (4:07)
Fade To Black (Fan Recording - Live at Solnahallen, Stockholm, Sweden - September 26th, 1986) (6:33)
Seek & Destroy (Live at The Country Club, Reseda, CA - November 8th, 1986) (6:18)
Creeping Death (Live at the Aragon Ballroom, Chicago, IL - May 25th, 1986) (6:03)
The Four Horsemen (Live at Grugahalle, Essen, West Germany - January 25th, 1987) (5:01)
Am I Evil? (Live at Hampton Coliseum, Hampton, VA - August 3rd, 1986) (3:38)
Whiplash (Live at the Aragon Ballroom, Chicago, IL - May 25th, 1986) (4:44)