Images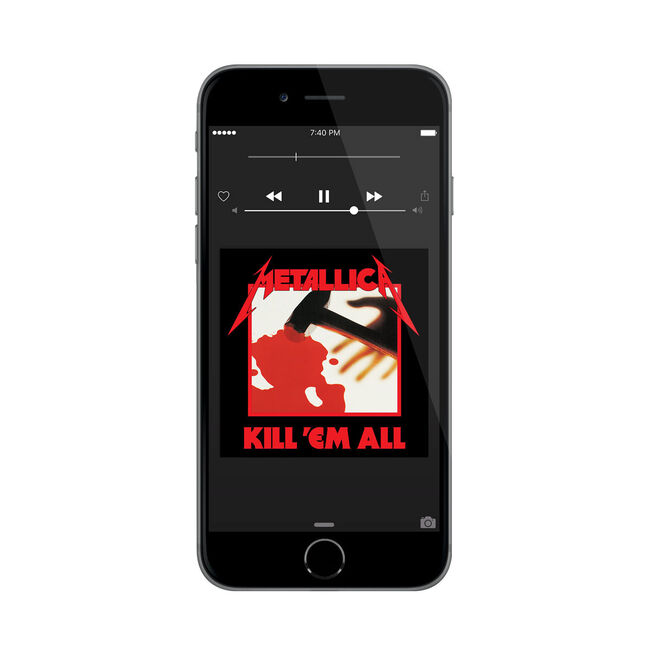 Kill 'Em All (Remastered Deluxe Box Set) (Digital Download)
Shop/Media
Details
https://www.metallica.com/store/digital-downloads/kill-em-all-deluxe-edition/BLCKND003RD-DIGITAL.html
Deluxe Digital Download Edition of Kill 'Em All featuring the remastered album alongside three live shows, rough mixes from Lars' Vault, the Whiplash EP tracks and the Jump in the Fire EP.
Variations
Select a format to learn more about the sound quality.
To download, you must be on a desktop computer or laptop. Downloads will not work on mobile devices like an iPhone or iPad.
Liner Notes
Remastered by Howie Weinberg at Howie Weinberg Mastering, Los Angeles, CA.
Part 1
Kill 'Em All (Remastered)
Hit The Lights
The Four Horsemen
Motorbreath
Jump In The Fire
(Anesthesia) – Pulling Teeth
Whiplash
Phantom Lord
No Remorse
Seek & Destroy
Metal Militia
Part 2
Live at Espace Balard, Paris, France - February 9th, 1984
The Ecstasy of Gold
Hit the Lights (Live)
The Four Horsemen (Live)
Jump in the Fire (Live)
Phantom Lord (Live)
No Remorse (Live)
Ride the Lightning (Live)
Motorbreath (Live)
(Anesthesia) - Pulling Teeth (Live)
Whiplash (Live)
Seek and Destroy (Live)
*Note: There is a slight tape cut before the first verse
Metal Militia (Live)
JUMP IN THE FIRE EP
Jump In The Fire
Seek & Destroy ("Live" at The Automatt)
Phantom Lord ("Live" at The Automatt)
Part 3
Rough Mixes from Lars' Vault, Bootleg Tracks & Whiplash Remix EP
Motorbreath (Rough Mix)
Hit The Lights (Rough Mix)
(Anesthesia) – Pulling Teeth (Rough Mix)
Seek & Destroy (Rough Mix)
Whiplash (Rough Mix)
The Four Horsemen (Rough Mix)
Seek & Destroy (NOT Live from The Automatt)
Phantom Lord (NOT Live from The Automatt)
Jump In The Fire
Whiplash (Special Neckbrace Remix)
Seek & Destroy ("Live" at The Automatt)
Phantom Lord ("Live" at The Automatt)
Part 4
Live at J Bees Rock III, Middletown, NY - January 20th, 1984
The Four Horsemen (Live) - Note: The tape was cut at the introduction
Jump in the Fire (Live)
Fight Fire With Fire (Live)
Ride the Lightning (Live)
Phantom Lord (Live)
Seek and Destroy (Live)
Whiplash (Live)
Part 5
Live at the Keystone, Palo Alto, CA - October 31st, 1983
Hit the Lights (Live)
The Four Horsemen (Live)
Jump in the Fire (Live)
Fight Fire With Fire (Live)
Ride the Lightning (Live)
Phantom Lord (Live)
When Hell Freezes Over ("The Call of Ktulu") (Live)
Seek and Destroy (Live)
*Note: The tape was cut at the introduction
(Anesthesia) – Pulling Teeth (Live)
Whiplash (Live)
Creeping Death (Live)
Guitar Solo (Live)
Metal Militia (Live)