Ride the Lightning (Remastered Deluxe Box Set) (Digital Download) (FLAC-HD)
Images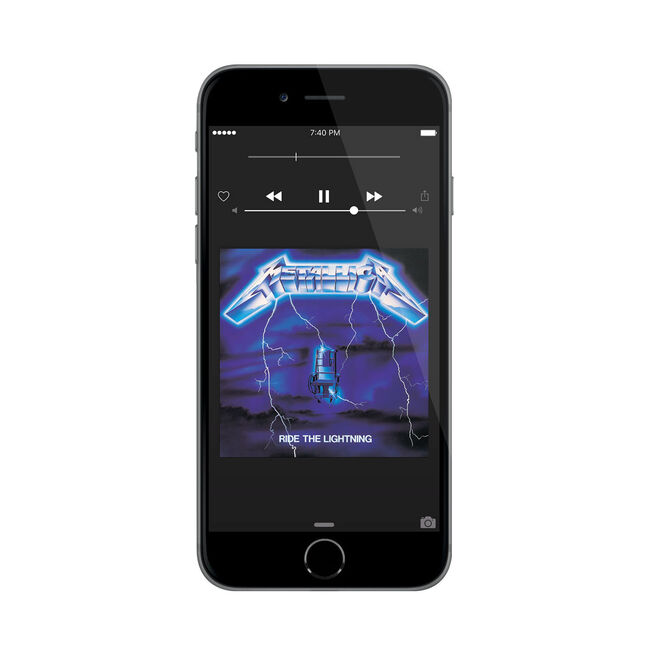 Ride the Lightning (Remastered Deluxe Box Set) (Digital Download) (FLAC-HD)
Details
https://www.metallica.com/store/digital-downloads/ride-the-lightning-deluxe-edition-flac-hd/BLCKND004RD-FLACHD.html
Ride the Lightning (Remastered), Live at the Hollywood Palladium, Los Angeles, CA - March 10th, 1985 and the Creeping Death EP files are 24-bit/96kHz.
All other tracks in the collection are 24-bit/44.1 kHz.
Variations
Select a format to learn more about the sound quality.
To download, you must be on a desktop computer or laptop. Downloads will not work on mobile devices like an iPhone or iPad.
Remastered by Howie Weinberg at Howie Weinberg Mastering, Los Angeles, CA.
RIDE THE LIGHTNING (Remastered)
Fight Fire with Fire
Ride the Lightning
For Whom the Bell Tolls
Fade to Black
Trapped Under Ice
Escape
Creeping Death
The Call of Ktulu
LIVE AT THE HOLLYWOOD PALLADIUM, LOS ANGELES, CA - MARCH 10TH, 1985
The Ecstasy of Gold
Fight Fire With Fire (Live)
Ride the Lightning (Live)
Phantom Lord (Live)
(Anesthesia) – Pulling Teeth (Live)
For Whom the Bell Tolls (Live)
No Remorse (Live)
Fade to Black (Live)
Seek and Destroy (Live)
Creeping Death (Live)
Am I Evil? (Live)
Motorbreath (Live)
CREEPING DEATH EP
Creeping Death
Am I Evil?
Blitzkrieg
DEMOS & ROUGH MIXES FROM LARS' VAULT
Ride the Lightning (Studio Demo)
When Hell Freezes Over ("The Call Of Ktulu") (Studio Demo)
Creeping Death (Studio Demo)
Fight Fire With Fire (Studio Demo)
Ride the Lightning (Garage Demo)
When Hell Freezes Over ("The Call Of Ktulu") (Garage Demo)
Fight Fire With Fire (Garage Demo)
Ride the Lightning (Boom Box Demo)
Blitzkrieg (Rhythm Track Rough Mix)
Am I Evil? (Rhythm Track Rough Mix)
LIVE AT THE KABUKI THEATRE, SAN FRANCISCO, CA - MARCH 15TH, 1985
Fight Fire With Fire (Live)
*Note: The tape was cut at the beginning
Ride the Lightning (Live)
Phantom Lord (Live)
The Four Horsemen (Live)
(Anesthesia) – Pulling Teeth (Live)
For Whom the Bell Tolls (Live)
No Remorse (Live)
*Note: There is a slight tape cut towards the end
Fade to Black (Live)
Creeping Death (Live)
Guitar Solo (Live)
Am I Evil? (Live)
Motorbreath (Live)
LIVE AT THE LYCEUM THEATRE, LONDON, UK - DECEMBER 20TH, 1985
Phantom Lord (Live)
*Note: The tape was cut at the beginning
The Four Horsemen (Live)
(Anesthesia) – Pulling Teeth (Live)
For Whom the Bell Tolls (Live)
No Remorse (Live)
The Call of Ktulu (Live)
Seek and Destroy (Live)
Whiplash (Live)
Creeping Death (Live)
*Note: The tape was cut at the end
Guitar Solo (Live)
Metal Militia (Live)
LIVE AT CASTLE DONINGTON, UK - AUGUST 17TH, 1985
Creeping Death (Live)
Ride the Lightning (Live)
For Whom the Bell Tolls (Live)
The Four Horsemen (Live)
Fade to Black (Live)
Seek and Destroy (Live)
Whiplash (Live)
Motorbreath (Live)