Images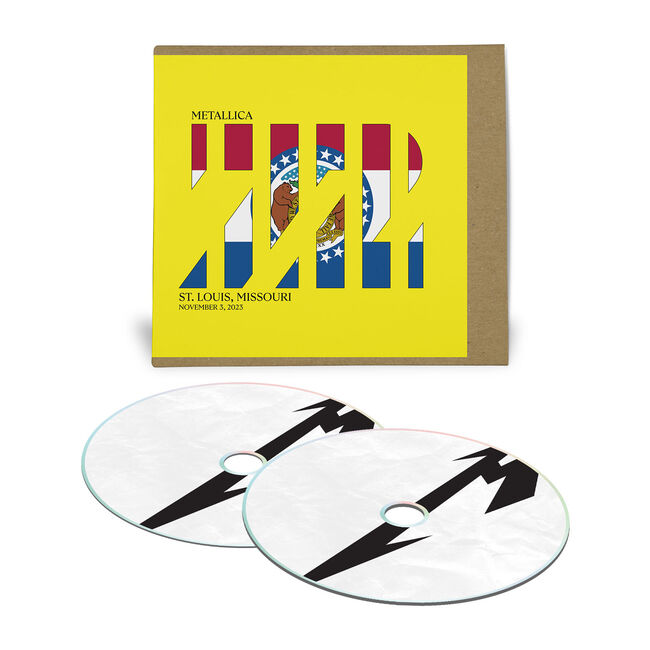 NEW - NO DISCOUNTS
Live Metallica: St. Louis, MO - November 3, 2023 (2CD)
Shop/Media/Live Metallica CDs
Details
https://www.metallica.com/store/live-metallica-st-louis-mo-11-3-23-2cd/LM20231103.html
Complete audio recording recorded live at Dome at America's Center in St. Louis, Missouri - November 3, 2023.
You can purchase digital download formats of this show at LiveMetallica.com once they become available.
This product is on pre-order
All products on pre-order purchased in a single order will be shipped together when the last pre-order item becomes available.
If you would like to receive each product as it becomes available, place your orders individually.
This product is on pre-order
Description
*This is a pre-order product. Your card will be charged at the time of purchase.
** Please note: You will only be able to check out with this item and other pre-order Live Metallica CDs in your cart. If you have another item in your cart at checkout, you will not be able to proceed. This is only the case while the item is on pre-order.
Tracklist
Creeping Death
Harvester of Sorrow
Holier Than Thou
The Memory Remains
Lux Æterna
Too Far Gone?
Fade to Black
Shadows Follow
Orion
Nothing Else Matters
Sad But True
The Day That Never Comes
Hardwired
Fuel
Seek & Destroy
Master of Puppets