Women's Boris Denim Jacket
Met Store/Clothing
Details
https://www.metallica.com/store/womens-boris-denim-jacket/WBORISDENIMJACKET.html
The perfect jacket to add more patches or wear as is! The Women's Boris Denim Jacket is made to last with button detail only a Metallica fan would appreciate.
100% Black Denim
Splatter M Logo engraved buttons
Metallica Splatter Logo in red above front left pocket
Pushead's Boris artwork patch stitched on back
See sizes below.
SIZING
Size
Small
Medium
Large
XL
Length
24 in.
24.5 in.
25 in.
25.5 in.
Chest
19.5 in.
20.5 in.
21.5 in.
22.5 in.
Waist
19 in.
20 in.
21 in.
22 in.
Shoulders
17.5 in.
18 in.
18.5 in.
19 in.
Sleeve
21.5 in.
22 in.
22.5 in.
23 in.
BILLABONGSSJACKET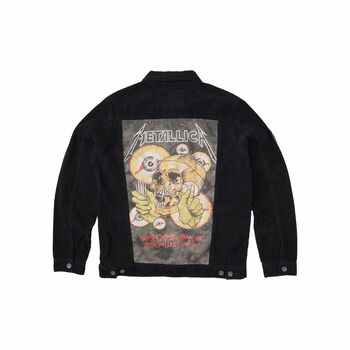 Billabong x Metallica Shortest Straw Jacket
Description
The fifth and final release of Billabong x Metallica brings the ...And Justice for All inspired collection. The Billabong x Metallica Shortest Straw Jacket is one of four products in the line.
100% Cotton Corduroy
Vintage wash with applique and embroidery details
Featuring The Shortest Straw artwork by Pushead on the back
**Billabong products will not be restocked. Only the sizes you see will be available to sell. If you do not see your size, you can try at Billabong.com.