S&M2 Moose Skull Full-Zip Hoodie - Medium
Details
https://www.metallica.com/store/sm2-moose-skull-full-zip-hoodie/SM2MOOSESKULLHOOD-M.html
Official S&M2 merchandise featuring new artwork by WolfSkullJack!
80% Cotton / 20% Polyester
Double Fabric Hood With Enclosed Zip
Size measuring across - armpit to armpit

Small – 17.5-18.5"/44.45-46.99cm
Medium – 19-20"/48.26-50.8cm
Large – 20.5-21.5"/52.07-54.61cm
XL – 22-23"/55.88-58.42cm
2XL – 23.5-24.5"/59.69-62.23
3XL – 25-26"/63.5-66.04cm
Michelle, better known as WolfSkullJack, is an artist and illustrator based in Cheltenham Gloucestershire. She specializes in finely detailed ink work that largely features wildlife and anatomical elements. She often uses beautifully intricate skeletal and floral designs that are both aesthetically pleasing and morbidly fascinating. Her work explores the volatile and often hostile relationship between man and nature by intertwining human and animal anatomy together. Although sometimes unsettling, her pieces convey the message that despite our ego both man and beast are built of the same blood and bone.
Follow WolfSkullJack on Instagram @wolfskulljack_art, on Twitter @WolfSkullJack, and on Facebook @wolfskulljack and learn more about her in our AWMH Artist Spotlight.
SM2MOOSESKULL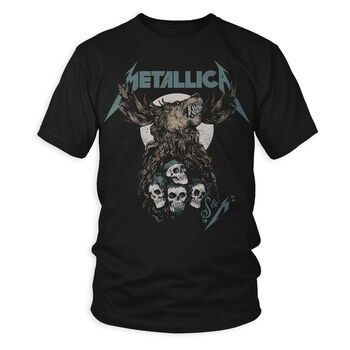 Description
Official S&M2 merchandise featuring new artwork by WolfSkullJack!
100% Cotton, Black, Short Sleeve
SM2SCRATCHCELLO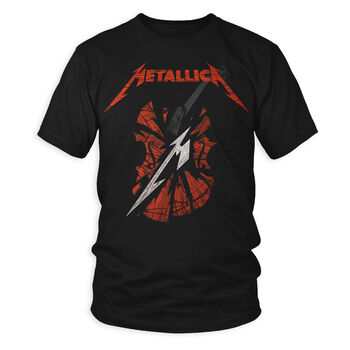 S&M2 Scratched Cello T-Shirt
Description
Official S&M2 merchandise!
100% Cotton, Black, Short Sleeve
SM2CD-DVD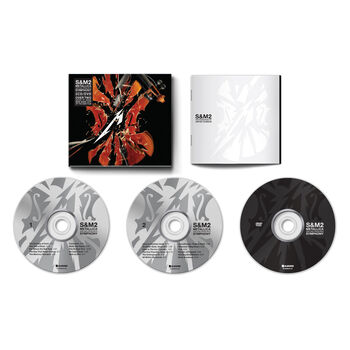 Description
S&M2, the live concert film from Metallica & The San Francisco Symphony, is the concert event of the year!
This live recording features 20 songs (over 2.5 hours of music) from the two-night event that opened San Francisco's new Chase Center, with many Metallica fan favorites and two unique classical songs chosen by San Francisco Symphony Music Director Michael Tilson Thomas.
S&M2 is newly re-edited by the band with remixed and remastered audio for a whole new look and sound from the original theatrical run in October 2019.
This product contains:
Two CDs
DVD with the concert and behind the scenes bonus footage
36-page booklet featuring photos from the show by Anton Corbijn
DVD is region free
DVD Audio: Dolby Digital
You must be logged into your Fifth Member™ account to access the 20% off discount. Not a member? Join now for free! Discount applies exclusively to orders placed on Metallica.com and does not extend to the Probity UK/EU shop.
SM2KEYCHAIN
Description
Official S&M2 merchandise!
100% pewter
Measures approximately 1.75"/4.445cm high
On 1" split ring
Alchemy Of England brand