S&M² Cuff Links
Details
https://www.metallica.com/store/sm-2-cuff-links/S%26M2CUFFLINKS.html
Limited edition 100% sterling silver cuff links, handcrafted by Silver Luthier and featuring the Metallica S&M² Logo on both wrists.
This product is limited to only 25 sets. Boxes are not numbered.
**This is a pre-order product. Your card will be charged at the time of purchase.
PLEASE NOTE:
Due to customs restrictions, we cannot accept or ship orders to Russia or Brazil.
Signature will be required for all shipments.
No refunds or exchanges.
Silver Luthier was launched to fill a niche market of revolutionary guitar accessories such as tuning keys, volume & tone knobs, tailpieces, toggle plates, & striking Rocker style sterling silver jewelry, such as bracelets, rings, earrings & pendants to match. All hand carved, cast and finished in our shop in Nashville.
With a fascination for Rocker style jewelry, creator Ryan Murphy began learning silversmithing, & apprenticed under a 3rd generation master jeweler in Los Angeles, where he began to create his first designs, which later evolved into Silver Luthier.
The guitar parts concept evolved out of his other passion, playing guitar. Of course, being a lefty, he found that finding the beautiful lefty guitars he wanted was a challenge, so he began building his own in his uncles wood shop. Inevitably that led to his next realization: All guitar hardware was essentially the same, or otherwise not quite what he was looking for.

He decided to combine the colorful Rocker image with his guitar accessories. Years of trial & error & honing his craft later, he created the most visually striking accessories to hit the market. From tailpieces clad in skulls, tuning pegs with Gothic crosses, to flame toggle plates & more, all with their matching Silver jewelry counterpart, skull rings, Gothic cross pendants, etc.
Silver : A Precious soft white metallic element, capable of a high degree of polish. Silver is one of the "noble" metals. It is commonly used in the construction of high quality musical wind instruments, as well as used for coin, plate and jewelry. Symbol Ag. (Argentum)
Luthier : A Craftsman who makes stringed musical instruments such as Violins or Guitars.
S&M2POLO
Description
100% Polyester, Black, Short Sleeve Polo
Embroidered S&M² logo on left breast
Desert Dry™ moisture wicking
Three-button placket
Metallica Glitch Logo on the left sleeve, Antigua triangle patch on the right sleeve
S&MPINTGLASSSET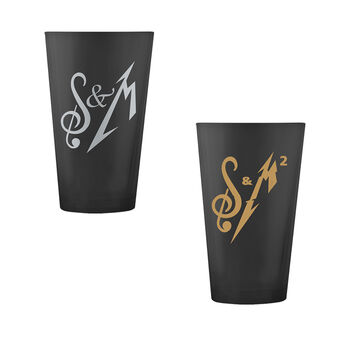 S&M 2-Pack Pint Glass Set
Description
Two 16 oz. limited-edition black pint glasses
One glass features the S&M original logo on the front and the 1999 tour dates on the back. The second glass features the S&M² logo on the front and the 2019 tour dates on the back.
PLEASE NOTE: Randomly select orders will recieve the silver and gold pint version set instead of the black pints. This version is much more limited in quantity. This version will be hologramed and numbered.
**This is a pre-order product. Your card will be charged at the time of purchase.
Exclusive to Fifth Members only. Limit one (1) per member.
** Placing this item in your cart does not guarantee purchase. The checkout process must be completed in its entirety before the item belongs to you.
M534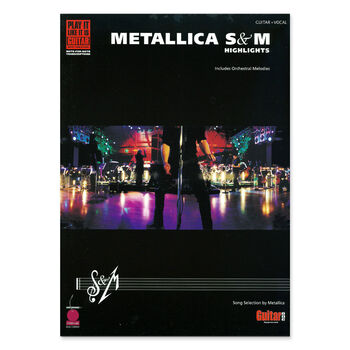 S&M Highlights - Guitar Tablature Book
L4_CERXU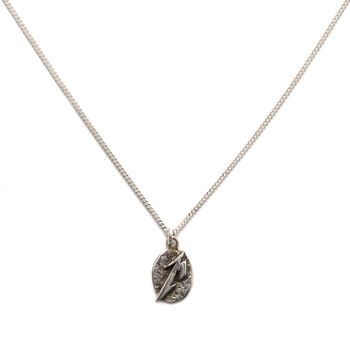 Sterling Silver M Logo Necklace
Description
Solid sterling silver pendant (manufactured in the USA by Silver Luthier) about 15mm (5/8" tall) not including the top ring and 11mm across (just under 1/2") hung on a 20 inch, 1.3mm sterling silver curb chain (made in Italy).
PLEASE NOTE: Due to customs restrictions, we cannot accept or ship orders to Russia or Brazil.