Reclaimed Rust: The Four-Wheeled Creations of James Hetfield (Hardcover Book)
Met Store/Gifts
Details
https://www.metallica.com/store/reclaimed-rust-book/RRBOOK.html
For the first time, James Hetfield's custom built car collection can be seen in full on the pages of a gorgeous new coffee table book, Reclaimed Rust: The Four-Wheeled Creations of James Hetfield.
Format: Hardbound
Dimensions: 12" x 9"
Pages: 192
Not only is James Hetfield Metallica's vocalist and guitarist, he also enjoys another lifelong passion: restoring and customizing classic cars into magnificent pieces of automotive art. From his own creations such as the Skyscraper to the Aquarius, to the Black Pearl and beyond, Hetfield's collection of beautifully reimagined classic cars is truly stunning.
For the first time, James is opening up his garage and inviting readers to dive under the hood of some of these internationally lauded classics. Featuring dynamic, specially commissioned photography done by Scott Williamson at Photodesign Studios and insight from Hetfield into their creation, this book is a unique opportunity to learn about Papa Het's passion for creating bespoke classic cars.
PICK04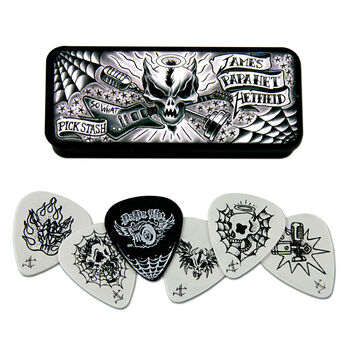 Description
James Hetfield signature 'Papa Het' pick tin! The tin includes six picks, each of them featuring a different design. Artwork by James Hetfield and Dirty Donny. Made by Dunlop.
**Purchase five(5) or more pick tins to get $5 off your total at checkout.