Metallica Hardwired Rock Iconz Statue Set
Met Store/Featured
Details
https://www.metallica.com/store/metallica-hardwired-rock-iconz-figures-set/HWROCKICONZBUNDLE.html
Collectible Rock Iconz bundle set. Includes James Hetfield, Lars Ulrich, Kirk Hammett and Robert Trujillo from the Hardwired...To Self Destruct era.
Hand-cast, painted and numbered
Only 3000 created
Officially licensed
Limited edition
Bundle includes all four band members and instruments. Each statue is approximately 8.5"x8"x7"
Also available through Probity Merch UK/EU Metallica Shop and Knucklebonz.
***This is a pre-order product. Your card will be charged at the time of purchase. Please note, shipping for this product will not occur until February of 2021. Shipping date subject to change.
The Rock Iconz statues cannot be purchased with any other products. You will only be able to checkout with Rock Iconz statues in your cart.
KnuckleBonz creates hi-end collectibles. Creating officially licensed products is important to KnuckleBonz and has helped them establish a reputable brand.
Taking great pride in their authenticity, it is not just a business to KnuckleBonz. They are ultimately fans and started KnuckleBonz to create something for other fans that would honor the musicians and rock music legends admired.

KnuckleBonz takes great pride in the quality craftsmanship that goes into each and every new collectible product produced. The result is fantastic feedback from many loyal customers who have continued to add to their collections with each new piece released.
Created for Fans, by Fans… KnuckleBonz was established in 2003 and has focused on music collectibles. This year, they are pleased to add licenses which will complement the work already created in the Rock Iconz® series.
Attention to Detail and Design KnuckleBonz projects are designed by Tony Simerman, the company's founder and Creative Director.
Website: www.knucklebonz.com
Instagram: @knucklebonz
Facebook: www.facebook.com/KnuckleBonz
16098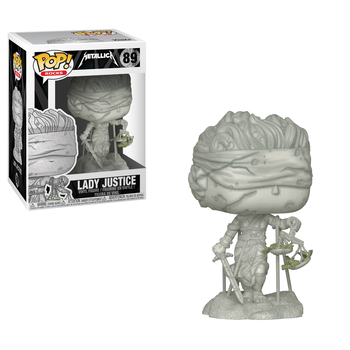 Funko POP! Rocks: Lady Justice Action Figure
Description
Lady Justice as a stylized POP! vinyl from Funko! Figure stands 3 3/4 inches and comes in a window display box.
MOPBROKKERFIGURESET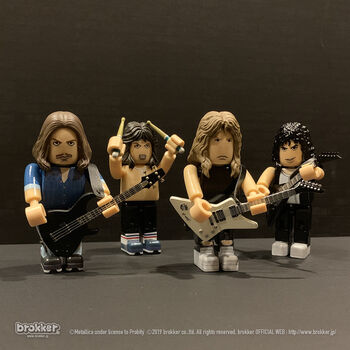 Master Of Puppets Brokker Figure Set
Description
Japanese collectible toy company, Brokker, have faithfully recreated the Master Of Puppets era line-up along with their wardrobe and instruments even down to the taping on Lars' drumsticks. All instruments are detachable and these figures come in a Master Of Puppets themed blister box
Box measures approximately 12" (320mm) x 5" (130mm) x 5" (120mm)
Each figure stands approximately 3" tall
Limited edition
2021CALENDAR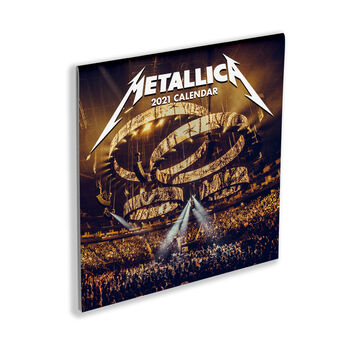 Description
The 2021 calendar features 12 full color shots from the S&M2 shows on September 6 & 8, 2019 at the San Francisco Chase Center.
Dimensions are 12" x 12" with months January-December and plenty of space to write in all your important appointments and dates!
Photos by Brett Murray and Jeff Yeager
10908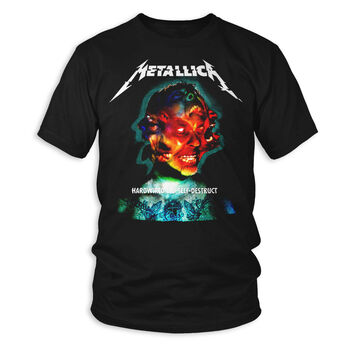 Hardwired...To Self-Destruct T-Shirt
Description
100% Cotton, Black, Short Sleeve Shirt
Features Hardwired...To Self-Destruct album cover artwork