Images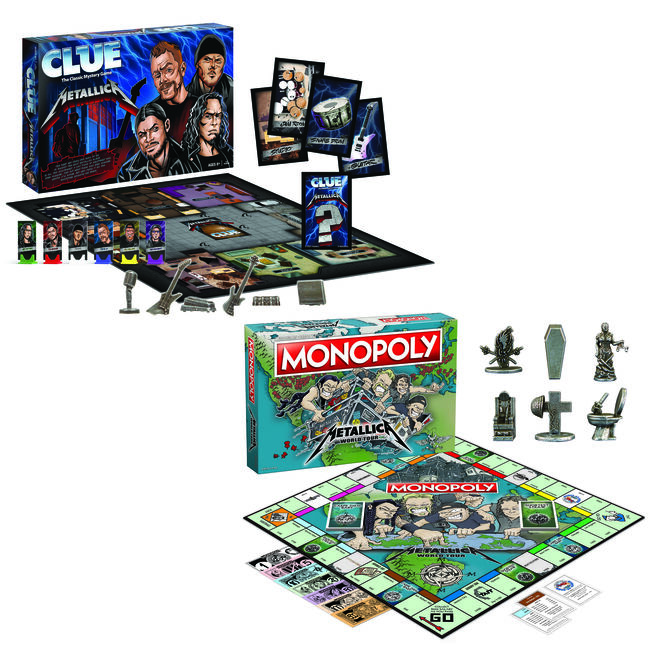 Board Game Bundle - Monopoly and Clue
Shop/Accessories
Details
https://www.metallica.com/store/board-game-bundle-monopoly-clue/GAMEBUNDLE.html
Getting together for a game night? Give it a metal twist! This bundle includes Metallica Monopoly and Clue for your trading and mystery needs.
Description
MONOPOLY:
Celebrating life on the road, including the World Record breaking, Whiplash-filled year of 2013 when Metallica became the first and only band to ever perform on all seven continents. Tour around the globe with your collectable token to some of the band's favorite cities in North America, South America, Europe, Asia, Australia, and Africa. You'll even find yourself Trapped Under Ice in Antarctica!
Purchase property with your Metalli-bucks, acquire all the cities on one continent, and add arenas and stadiums to increase your value. Land on one of the "Carpe Diem" or "Shortest Straw" spaces and be rewarded with sticks, picks, and snake pit passes, or fined with parking and stage repair fees. Travel the world, Metallica-style, while building your real estate empire!
Player tokens include: Lady Justice, Death Magnetic coffin, Ride the Lightning electric chair, Master of Puppets Cross, Metal Up Your Ass toilet, and the Scary Guy.
CLUE:
The band and crew are back at HQ to record Metallica's next album, but with all the excitement, a key piece of equipment has gone missing! As the hours tick by, the group grows more and more eager to begin. They decide to split up and scour the building for any trace of their missing equipment. Find out WHAT piece has gone missing, WHERE it's hiding, and WHO finds it so the recording session can get back on track!
Players: Papa Het, Duder, Mr. Ripper, Dr. Groove, The Engineer, Col. William
Equipment: Guitar, Bass, Snare Drum, Wah Pedal, Microphone, Computer
Learn more about the artist behind Metallica Clue in our So What! Interview - Maxx242: Clue'd Up.
This product is excluded from any discounts.