We've discussed the special might that was The Apollo Theater and we've pontificated on how special it was to be at Yankee Stadium last Sunday with Mariano Rivera and the Yankees (and the Giants too! - we can say here and now that it was pretty freakin' COOL and serendipitous that the 'opposition' would be our very own beloved San Francisco Giiiiiiiiiaaaants!!!) and now it's time to make official record of the media shakedown which was Metallica in New York.
It started with Monday coverage of the Yankees game, which seemed to include as many photos of the guys performing as Mariano taking that iconic walk, which dovetailed with a very early morning appearance on Howard Stern's show. I need to get into the details of the Stern appearance, suffice to say it's legend is growing daily as Stern did what he can do and extracted a tremendous interview from the boys, specifically James. They then delivered a few live treats directly from the studio (there was barely room for the band amidst the equipment - SiriusXM is 'siriusly' small...have we flogged that joke to death already?) with "One", "Nothing Else Matters" and "Enter Sandman" with the Stern team all ridiculously excited about everything. It's nice to be able to report that Stern is a massive fan who was spotted in the Apollo crowd by this-here scribe soaking it all in and giving it a bit of the old 'heavy metal horns' himself (I can also report that from a distance he kinda looked like Joey Ramone with a perm as he watched Metallica). So, slaying Stern, it wasn't going to get better right? Wrong!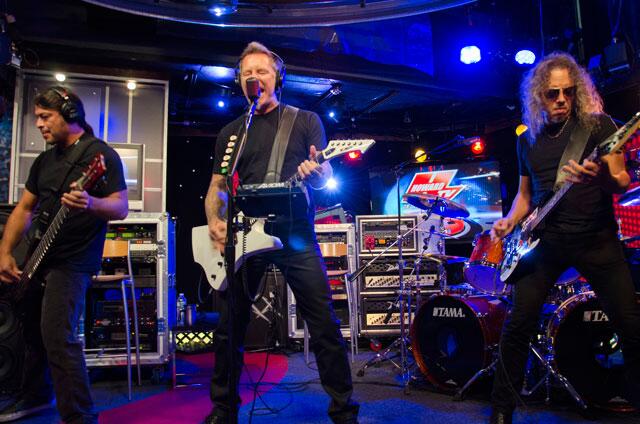 Tuesday saw the guys go and perform live for America's most incredibly humble, kind and humble (did I also mention shy, retiring and humble?!) Stephen Colbert in his living room! Well, sort of...I mean, it was on his little old tee vee show, but there was a fireplace complete with mantlepiece, and the whole vibe was very 'homely'. Aside from more self-portraits than properly imaginable as no space in Colbert's building is left uncovered by an image of Colbert. Again, you have to admire the man's generosity and humanity in knowing that so many staff and guests just want to see his face as much as possible; he is nothing if not a giver. One thing which you wouldn't have seen was warm-up comedian Paul Mecurio (who was a proper old-school comedy hooligan of the greatest order) picking out audience members and zeroing in on Cliff Burnstein and Peter Mensch, who it has to be said got a thorough roasting (Cliff in particular came in for some incredible ribbing and, it has to be said, took it in total stride). A tough, tough act to follow I can promise you, but when I say that Colbert had a proper Catholic honcho in Father James Martin introduce live versions of "...Bells" and "Master Of Puppets" WITH the heavy metal finger horns, that the sound literally blew Colbert's glasses off, and that in their fireside chat Colbert managed to broach the subject of a third testicle within the band (you had to be there because, well, it was kinda bizarre....nearly as bizarre as Mecurio saying the management looked like homeless people and having random women in the audience come up and hug them!) then you'll know it was pretty damn cool...tee-vee land only saw "...Bells" but everyone can see "...Puppets" exclusively on the demure man's website.
To round-off the New York stories, the guys then hosted a 'family & friends' screening of Metallica Through The Never at the Empire Times Square theater before throwing a nice bash for everyone downtown. As I write, they are scattered in four different places doing more movie promotion...relentless...as it has to be...but that's for another story...
Steffan Chirazi
SW! Editor